Merl's Towing Service can tow any light to heavy vehicle — from motorcycles to semi-trucks — with our modern fleet of specialized equipment.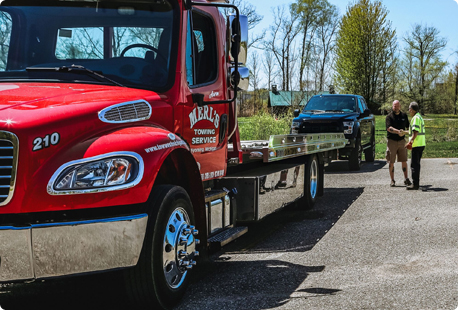 We also provide rapid-response roadside assistance for services including flat tires, jumpstarts, out-of-fuel, vehicle unlocks, winch-outs and more. Our dispatchers will get the right truck to you as quickly as possible to get you on your way or tow your vehicle for servicing – 24/7.
We have seven extended-cab rollback trucks that can transport multiple passengers to carry vehicles and occupants safely to their destinations.
Drivers are trained in-house and by nationally-recognized organizations such as Wreckmaster, the Towing and Recovery Association of America, the American Towing & Recovery Institute and the TowSafe tow truck driver safety program.
Our dispatching center utilizes GPS-positioning software to maintain a full view of the location of all trucks to get the right truck to your location as quickly as possible.