Our heavy-duty fleet offers full towing and recovery services for tractor-trailer combinations, construction vehicles, tankers – any heavy truck application. Fleet assets include state-of-the-art rotator capability that allows our operators to efficiently recover heavy loads with minimal highway blockage.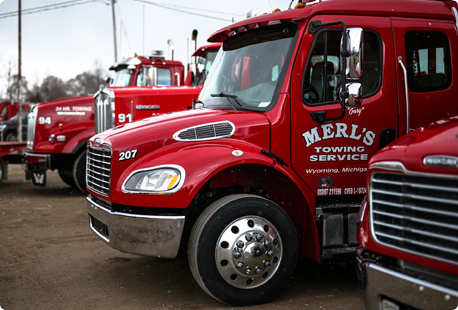 Whether your heavy commercial truck is involved in an accident, or needs to be towed from a breakdown, we offer quick response and experienced operators to take proper care of your vehicle and cargo.
Merl's Towing Service also provides heavy hauling/transport services with equipment that includes a 53-foot sliding axle trailer, 50-foot beavertail trailer, removeable gooseneck RGN trailer and a 53-foot dry van for transferring loads.
We can transport your vehicle and cargo from accident scenes, or pick up and deliver based on your needs.
We routinely handle a variety loads such as construction equipment, shipping containers, generators, rental equipment, backhoes, loaders, forklifts, manlifts, job trailers and mobile offices.